One thing in my life, which I hated when I ate it the first time, is the most popular food in the western countries – Pizza! I guess much time had passed between its cooking and the time I began to put that in my mouth!

The next time was all the way in my birthday, when I enjoyed it in a shop, along with a friend of mine, and you guessed right, it was for my birthday treat. The shop was Unique Cafe, situated in a famous location of East Delhi – Madhu Vihar Market. And this happened nearly four months ago.
Today, on the 16th day of 2010, I experienced, may be for a little while, what might eating in an expensive food joint feels. And believe me it feels good and may be a little awkward.
My friend Ankur and me, never know of where we would head, when we decide to go somewhere. What we know, is one thing for sure, that the journey would definetely include some kind of new food to eat. Whether its Gol-Gappe of Madhu Vihar, or burgur of Caunaught Place, whether its McPuff of Mac Donalds, or kulfi-faluda of Laxmi Nagar market, we always have to try new things. Cause we both are a big foody, and just when we think we have eaten much, more room gets vacant inside our cryptic stomachs!
This time we were at East Delhi Mall at Anand Vihar, which is the most happening mall according to me, at this side of Delhi. Today we decided to give the Pizza Hut a try for a food I still fantasize much about, and to know whats the big deal in eating in a joint like this.
Imparting ourselves with great grits, we headed inside the hut. The view looked liked a room coming straight from a diner of an american show. With waiters roaming around in comprehensive uniforms, tables decorated in a groovy manner and the feel with an aura of richness, maybe of all those money people were flaunting, was very new for me.
I asked the lady on the reception about our choice of food, but she instead told us to take a seat and not to worry about the order. I was skeptical at first, but later tried to grab one sofa, just to be stopped by a waiter, informing us about that being booked. So we headed in other direction, saw one bench and asked to confirm if that isn't already reserved!


A waiter came and gave us the menu, and recited, "Welcome to Pizza hut, here's the menus, what would you like to order?". It was hard for my friend to digest that the waiter's english was better than himself! And I on the other hand was trying hard, not to show my smile.
Not sure about the size of pizzas being offered we relied on a safe bet and ordered a medium Kadai Paneer Pizza, for the last thing I would want was a pizza of a size of a donut or pizza so large, we couldn't have dinner at the night! That went along with a drink, only to be advised about another one, which was a lime, for which we agreed on. Then he went telling us that the lime would come in few minutes and pizza would take atleast 15 minutes. Whoa, that felt long to listen, but who was complaining? I could wait, so long, as not to eat those cool ones, I hated the first time!
Later, I noticed a set of fork and a knife placed courteously along the right side of plates, which marked Pizza hut's logo on every opposite sides of it. After the limes came, I was surprized to the fact that it tasted exactly like the lime I used to make in summers. Well, I expected something different! The moment, we were resolving the issue, of which hand to hold the fork and the knife, waiter brought the pizza in a cooking pan. Now, that was something different!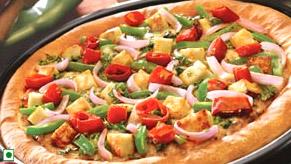 With a high appetite we broked to grab a piece of pie, in which the cheeze was melting like butter. It tasted so delicious, that I was getting a fair idea of why is it like a staple food in America. We were eating the pizza with those forks and knife and the noise when those was making in contact with the ceramic plates was I think must have been audible to the ones outside the hut! To top on that, the knife was slipping from our hands too often, that we thought, it would be best if we eat Desi Style, from our own hands!
So we picked the piece and dipped it in the tomato sauce, and ate it just like I had seen in those TV commercials. In order to gain taste, we were sipping the lime in between. One time, I closed my eyes and it was easy to imagine, like I was some sort of king, cause the richness of cheese dipped in that sauce was making the experience, to say the least, unforgettable.
After finishing half of the pizza, I suddenly realized that we hadn't used any seasoning on top of them, and so hurridly turned the seasoning sprinkler, only to find out that the holes were too big. With one sprinkle so much seasoning came out on one piece of pizza, that was enough to be applied on the whole of that. Our laughs were hard to control, and we managed to stop only for the sake of place we were eating.
After we finished the pizza a final surprize was yet to come, the bill shock. The cost which we had calculated for the pizza and the drinks, were excluded of the various taxes. So after the waiter tax, the frying pan tax, and god knows what tax, the bill was enough to put off any future plans to visit the hut again. But thanks to the corporate discount I availed due to working in a multinational company, I was given 25% off! Now, thats what I call an happy ending.

That's how we spend one afternoon at Pizza hut, in a mall, thinking that we could have end up whole dinner for four, in that amount we had spend for a pizza for two. But the experience was incredible. Its not always everywhere, the waiters take your orders in English, and you pay the bills keeping money inside a file and never see how the food is cooking. And in the end are greeted by one of the staff, to come again, and decrease the amount of our wallet by fractions!
We couldn't have asked for more, now, could we?