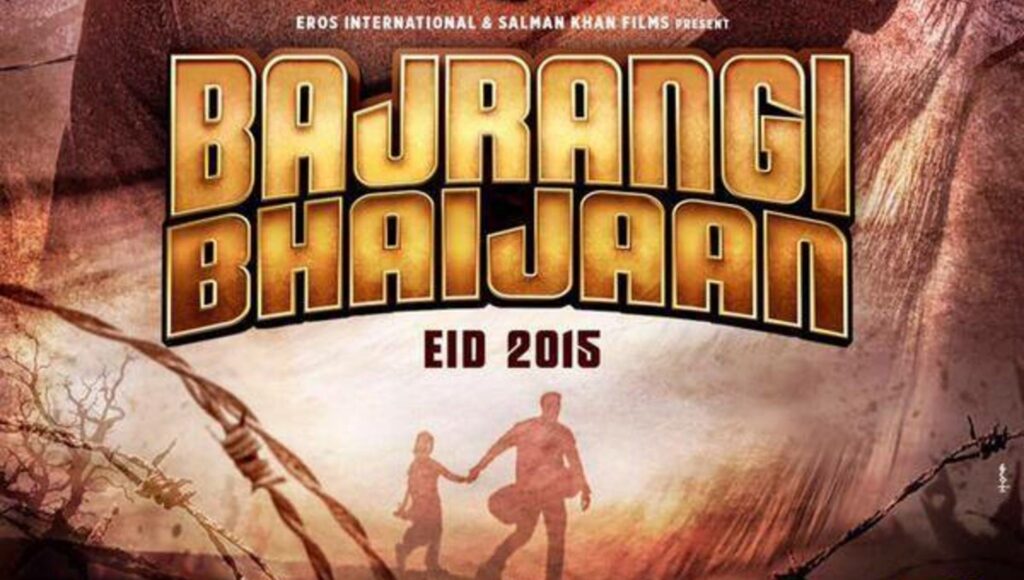 When a group of my friend insisted me to watch a Bollywood movie I had two choices. Salman Khan's seemingly mindless flick, "Bajrangi Bhaijaan" or an VFX intensive "Bahubali". For my geek oriented mind the later was an obvious choice. But as it turned out choice was a myth and I was dragged to the theaters for Bajrangi Bhaijaan.
Now, I am not a Salman fan. I like him as a guy, but despise his movies a lot. At least which came out from past few years. So when I went to watch this movie I had totally zero expectations. The formulaic approach of releasing movie on festivals like Eid, I totally thought this was also going to be a mindless no-brainer and an insult-to-Physics action movie.
So believe me when I say that you have got to see this movie! It shattered most of my expectations and proved to be a game changer for his stereotypical role that had become of Salman in recent times. And I am not exaggerating.

Bajrangi Bhaijaan is a story of a Pakistani girl who gets lost in India, and later meet Salman Khan, who after some incidents makes reuniting the girl with her family his mission.
The little girl a child actress "Harshaali Malhotra" is one of the cutest I have ever seen. She is speech impaired in the story, but what she lacked makes up by her cuteness and expressions that won my heart many times over.
I was hooked right with the opening scene of the movie itself which I found commendable. When Salman is introduced in typical hero fashion (with a song) all those apprehensions about his recent kind of movie started to appear in my mind. But as the movie progressed those slowly faded away and what shaped till the end of first half was a movie I appreciated with my hands open. The character of Salman is that of the guy in Aparichit. A guy who doesn't lie since he believes he is a true devotee of Hanuman. Little does it helps him achieving his mission.
There are many good actors who are also introduced slowly, like Nawazuddin Siddiqui, whose presence provided big comic relief to the movie in later half. Om Puri also have a small guest role.
What I loved about the movie is that there are situational comedy all over the film and yet it feels very serious. No character seems out of place or stretched. What I also loved about the film is that Salman isn't a larger than life character and story shows him as a common man. Well mostly. It was obvious that Salman would kick some behinds of people but it's only on one occasion in this film and if we spare some of the emotional drama that happens at the climax, this film was pure fun to watch.

On musical side, leaving couple of songs, every other song was good to hear. Song from Adnan Sami was a delight. Most of the songs was in the shape of background score which you can't miss due to its tie up with the story. I only found one bad song about chicken but that was just an exception rather than the norm. And this is where you can take a break to have some air. But buckle up after that since rest of the movie will be some ride.
This movie on some levels made be speechless. Probably because I had some other expectations. If anyone remember the film Lucky: No Time for Love, which came out exactly ten years ago. Lucky had Sneha Ullal in lead female role and was one of the rare Bollywood movies that I totally loved. Lucky had a similar theme to that of Bajrangi Bhaijaan. Salman met Sneha in a terrible scenario of war, and made reuniting Sneha to her family his mission. The film had a heart that touch on various emotional states of human mind on many levels. Bajrangi Bhaijaan greatly made me feel the same.

But while Lucky had failed miserably, Bajrangi I feel have the potential of being a blockbuster. At least I hope so since the taste I have for movies doesn't always appear to be a mass favorite. Not a lot of Salman movies have impressed me, yet Bajrangi felt like a blow of fresh air. Something which I would have easily missed because of my presumptions. This movie is a must watch because of its story, its music and its characters. Also because of the glimpses of Pakistan that it shows in the second half. Its a must watch for its good intentions and because of the little girl that made me smile without even a single dialogue.