This is my first full length review here, of something I am really passionate about, OSes. But before I start lets see what you should expect and not expect from this review:
Don't Expect:
1. 100% accuracy (I can be factually wrong somewhere, and you can help me finding those out)
2. Detailed hardware review (Since HTC Mozart is already an obsolete product, I wont go in detail in it)
3. Grammatical correctness (I am weak in that so, pardon me please)
Do Expect:
1. A detailed opinion on software issues, the pros and cons of WP7 at this version (Mango).
2. Screenshots (Many are in spoilers)
3. Future additions of features in this review on request.
PS: I don't own the device currently, so might not be able to entertain requests immediately.
Let's begun:
HTC 7 Mozart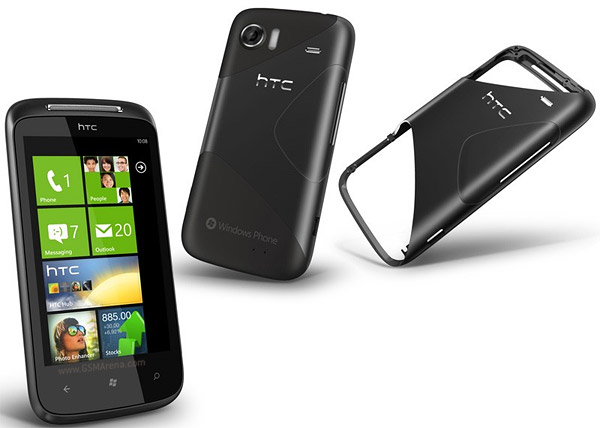 The Hardware
The very first thing which you will notice with HTC Mozart is its 3.7" glossy screen on a body made from brushed aluminium with curved edges. It sports a big speaker on the top and 3 touch buttons on the bottom. The buttons namely Back, Start and Search, follows the standard specified by Microsoft across all Windows Phone devices and so would be your navigation partners in exploring the world of mobile windows.

View from the back
The flat volume control:
Back side resides the 8 MP camera, xenon flash, speaker, and HTC logo:
The three buttons and camera shutter button:
Benchmark Score:
The Software
Coming back to the software part, which is what I am really trying to review here, I have got to tell this has been a totally new experience for me. Being an Android user I am used to customization and menu's and settings. But the tile UI of WP7 has really been a revamping change in the history of mobile OSes.
the new home screen & the start menu


Everything in WP7 begins from the Start button. Pressing it takes the user to the home screen which can be best described by a collection of square tiles of equal sizes (and some double), each representing an application or service. There's an arrow to the top right of the home screen, pressing which a user is taken to a full fledge menu. A user can create a shorcut tile for any of the menu item by long pressing it and selecting "pin to start". The unique thing about the tiles is that they are dynamic. Dynamic in the sense that some of the tiles are active and shows things like a number to represent if there is any miss call or message. Tile acts as two things here. It functions just like a status bar and a widget functions of Android.
the user interface
Microsoft have daringly created a totally different User Interface called, Metro UI, that is simple, different, minimal yet effective and functional. The degree of minimalism can be measured from the fact that even the status bar which shows the date, the signal tower, battery level and the WiFi status is automatically made hidden from the view, and can only be shown back if the screen is swiped from top a little.
One of the neat things about WP7 is that many of the applications have been given a uniform and standard UI. Almost every app follows the Panorama standard. Where the name of the application encompass across multiple screens and sub categories of options emerges with each swipe to either left or right.
Let's take Hotmail and GMail as an example. Both of them have the same interface, Folder title on top with small font, and then labels like, all, unread, flagged etc. below with big fonts which is followed by the actual mails. The mail UI is significantly different then it's counterpart in Android app. WP7 shows a list of mails through the contact name from which it has arrived, followed by a little snippet of the actual content of the mail. Neat.
The use of large fonts for the title of menus looks contrasting to the background, and lets users focus on important parts of the UI at first glance. I appreciated this design.
One major factor to personalize the mobile experience are themes. Although WP7 doesn't provide a lot of customization in this regard, it does provide a choice from 11 accent colours. Changing the colors has an effect in the colours of the tiles which is a dominant part of the home screen. Along with the option to change Accent colours, a user can also choose from two types of backgrounds, "light" or "dark". I prefer dark, and all the pics shot for this review is in dark theme.
In any app clicking the ellipses sign (…) gives access to settings pertaining to the app. So it's the right click -> settings equivalent for WP7.
The UI of WP7 also takes help of the 3 buttons, on which I will get back later.
The list of apps when the arrow of the side of Start Menu is pressed
Contact list alphabet selection (yeah, I just made it up). Alphabets for which no contact is there is blacked out:
When a call arrives, the mechanical female voice recites the name and number! Loved it
Messaging system, where messages are listed in threads, (same thing which Android follows)
And the message is read like this: (this actually is whats app)
The Hotmail Interface
Calender (pretty decent)
WP7 comes with a Bing map interface:
Theme selection menu and choices of colors:
This is what the home screen looks like (after we select Red colour as theme)
WP7 comes with the manual (help) interface (needs Internet to use this)
the apps
The WP7 comes with a bare bone apps pre-bundled which includes, Office, Maps, Messaging, Hotmail and the likes, but doesn't include any of the games along with it. This is where market comes in.
"Marketplace" is the app store for Windows phone apps, which is a collection of various apps although not anything like a vast treasure trove of apps that Android market boasts of, but it's certainly catching up.
WP7 has a special category of apps and is maintained in a special tile dedicated to gaming apps by the name of "XBox Live". One can browse through the gaming apps in various categories like, Action, Adventure, Puzzles, Racing etc.
Some of the games I really enjoyed were: Shuffle Party (Bowling ball), 3D Boat Race, 3D Marble Tracks, Physi Bricks, Shoot Bubble. There also are all types of classical games like Carrom, Ludo and Snakes & Ladders, which I downloaded to keep in the collection.

Being a Microsoft product, WP7 has a full-fledged mobile Office suite built in. With the ability to create a word file (.docx), and an Excel file. It also can be used to create PowerPoint presentations, although I didn't tested how well that works! (Maybe just to view the slides).

The Office Suite

The Excel

FM Radio

Stock Exchange app, its pretty cool

Temperature conversion app
Games in section of XBox live:

Games in marketplace

Racing game
The Bowling Ball:
Need for Nitro, the troll game!(It sucked!)
Photo Enhancer app, provides various kinds of effects to pictures:
the keyboard

Everything in WP7 mimics the tile interface, and the virtual Qwerty keyboard is no exception. The chances of pressing wrong keys is there, although no virtual keyboard can provide 100% accuracy, still the inclusion for Swype keyboard can be a great addition to WP. (Well, Sliding Keyboard can provide this functionality, but it's not a free app. Read about it here: Sliding Keyboard: it's like Swype, but for Windows Phone 7 — Engadget)
One of my major concern with this stock keyboard is that it doesn't stretch to the sides, while in landscape mode. Well, maybe it doesn't need to. But it seems a little waste of space.
integration with cloud
To make things simple, WP7 provides no alternative to Astro, the most popular file manager in Android. Instead it provides 25 GB of free cloud storage called, "Skydrive", which lets user save their documents, pictures and videos etc.. on Microsoft Live servers.
Every picture you take or videos you shoot can be set up to be uploaded to Skydrive instantly. Problem comes when you have to send just a "few" of them through email. There is probably no easy way to just check mark a few photos and then send them through mail. The turnaround I have found is to first select a single pic to send via mail, and then using the attach files option to attach more pics one by one. Which by the way is PITA if you have many pictures to select.
One more point to be noted is that pictures which are uploaded to skydrive are heavily compressed. In my experiment a picture which had a dimension of 1632 x 1224 (331 KB) was compressed to just 718 x 538 (81.4 KB). So it's better NOT to rely on Skydrive for backup purpose. But you can always take a backup of the pics at original quality through ZUNE.
Also, one funny thing is that despite of Skydrive being such an integral part of WP7, the Skydrive app doesn't come pre-bundled, and has to be download via marketplace!
the 3 buttons (in terms of software)
Back buttons
Pressing back button takes the app back one level in menu, or either exits the application. But pressing it long enough causes the Application Switcher to appear. It's the Alt+tab equivalent of Windows desktop OS but provides full preview of each application as we scroll to select the app we want to jump to. I really liked the fluid interface of app switcher.
Application Switcher:

Start button
Start button will probably be the most useful button that you will always find yourself using. No matter wherever you are, touching this button takes you to the tiled home screen. Contrary to the back button, this doesn't closes the app, rather puts all the apps in the background. So, if you ever decide to switch back to the app on which you were on… just press back button for long!
So what does long pressing the Start button does? Well, it activates voice command, powered by TellMe. It's like Siri of iPhone, with almost the same mechanical female voice, but its accompanied by a nice futuristic tones of sound which is pleasing to hear and helps you to wait if you have a slow connection like 2G.
Here you can speak of commands like, "Call <name>", "Open <app name>" and it will call the person or open the app for you. Or if you just say some thing and it will search it on Bing.
I haven't explored this feature, so I leave it to existing WP7 users to tell how accurate that is with Indian accents.
Search button
If you are old fashioned like me, you will want to search something from a dedicated button like this one. Pressing this button will take you to Bing search page and will not open Bing.com in the browser. One thing to note here is that this button search on Bing, universally and is not application specific. For eg, in my Optimus One, the search button behaves specific to the app which currently is open. So, pressing the search button in O1 when GMail app is active will lead to me to search in GMail and not the Internet.
(Other members can confirm this since I didn't try it on many apps.)
Other aspects
I found a strange bug in connecting the phone with WiFi. Once the WiFi is detected, it opens a page in IE where we need to enter login ID and password. But I never used to encounter a submit button after entering that. After whole lot of trial and error, I finally found out that, refreshing the page solves it.
It was strange. Sadly there is no other browser available for WP7 right now, so couldn't test on those.
Also, one irritating thing about WP7 that I found out was inability to send files through Bluetooth. The phone does support bluetooth, but OS does not.
In the spoiler below are some pics that I shoot with the phone to check the image quality. You can see them in it's original form and no compression:
(I have to check why the dimension seems less than the phone boasted to shoot).
ZUNE
How the phone got updated:
Connecting the phone to PC:
Zune downloading and installing update:
Updated in about 15 min:
New updated version of WP7:
conclusion:
The period of 7 days in which I tried HTC Mozart was really a good experience. The new tile interface is very appealing and refreshing. I learned many things. Found turnarounds for some problems which seemed unsolvable at first. And tried to cover many aspects of my discoveries in this review. While it seemed to me that Microsoft is going on the tracks of Apple by making a dumb version of the OS, and which was evident too with the lack of many customization options. But it looks like Microsoft is trying to find the perfect balance between the stability, functionality and the user experience. And so far its looking that it's headed in the right direction.
Microsoft have come up with a really good OS here. And although its not open source, we are already witnessing extensive app support. With the tile interface already being a significant part of Windows 8 and XBox, Microsoft is really serious about giving the user a unified experience across all its devices. I hope the little bugs would be ironed out in future updates (next being Tango), and they provide some way to access the hidden settings to the users who want them!
PS: This article was originally published by me at here. I copied it to my blog later.