My year in blogging in 2015 was a good one. Specially the start. I posted 2 posts every month for at least half of the year. Total of 27 posts were written in the year.
The first post, "Year 2014 at a Glance" was a good attempt in summarizing my experience gained in the previous year. I hope to write something about the year 2015 too, although not much have changed. I started to post the Google Spheres (panorama in 360 degrees) of the places I uses to visit. I found out that Google Spheres are a great way to look the places and as a evolution to traditional images. Its better than even a video, since Google Sphere is like a moment froze in time that you can view at your leisure. Only thing that supersede this are 360 degree videos that YT recently started to support.
In entertainment section, I wrote about few movies which made me awe. The Theory of Everything was a good movie on Stephen Hawking which I loved. Bajrangi Bhaijaan was a pleasant surprise from Bollywood. While the film Ugly introduced me to the direction of Anurag Kashyap in a good way. Predestination was one mind blowing film too. Since Heroes came out with a new season with Heroes Reborn, I recollected my love for the original Heroes in a blog. I felt pretty good about it too since I shared that on Reddit and got good response. I watched Star Wars in the last days of December so I may write about it soon, but only in 2016.
A lot of stuff happened on the technical side of my life. I migrated to a new host for my site. This year I created a series of posts about Ubuntu and aggregated them under a page "The Ubuntu Guide". I felt pretty good writing about Open source and my understanding of how Linux works grew considerably. I reviewed the phone YU Yuphoria which my cousin bought. While on the other side, Microsoft also came out with a new version of its OS, Windows 10, which made up for all things wrong with Win 8. I helped my friend Ankur assembling a new desktop PC and I wrote about our experience in buying from Nehru Place and assembling it.
I wasn't able to write about any new places that I visit, since compared to last time I only went to two places this year. Jaipur in April and Kanatal in December. But I intend to post a few Google Spheres about them soon.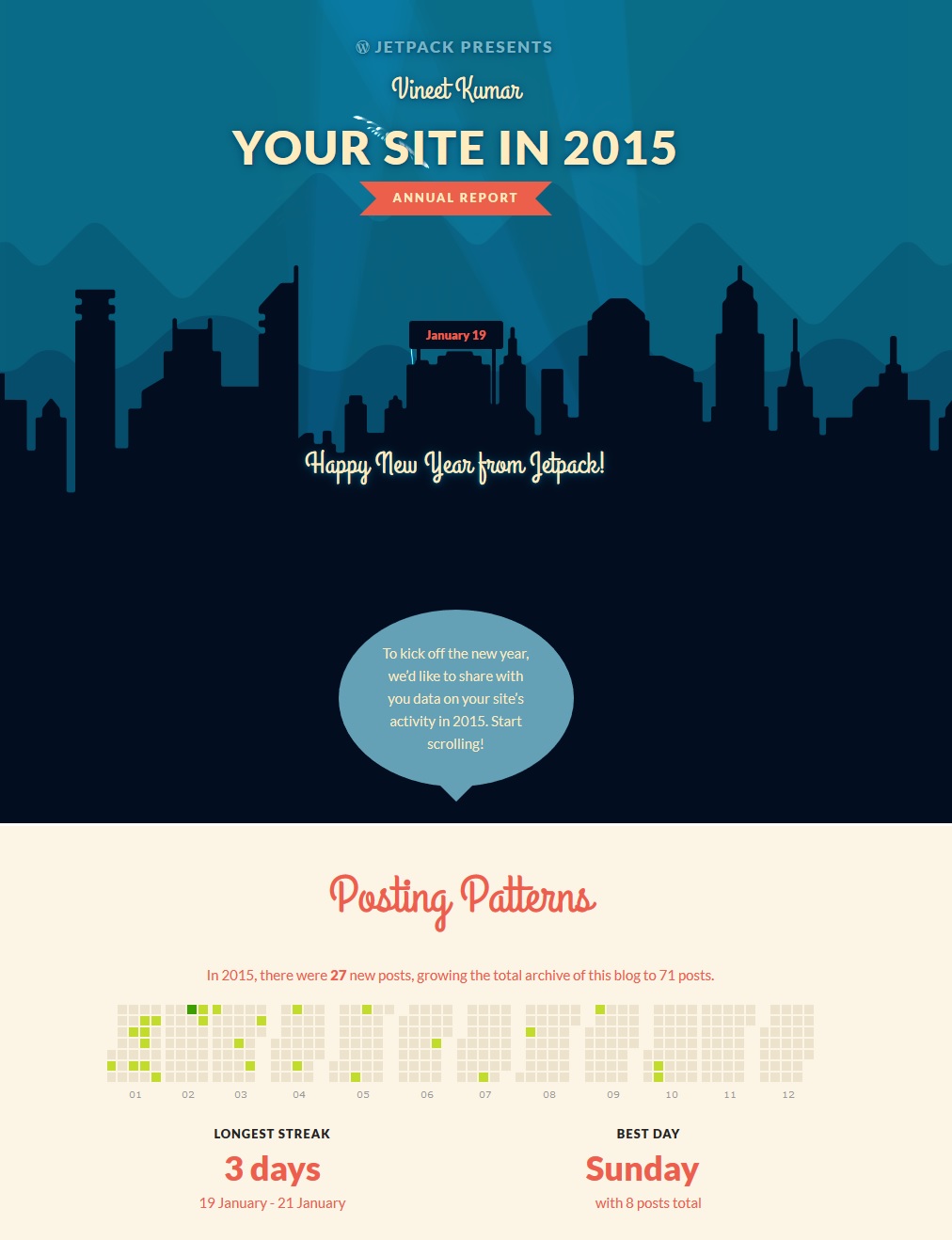 Here's the report from Jetpack summarizing my blogging in 2015. It's certainly to see Aaruni being one of the top commenters on my blogs. I say thanks to the readers of my small but diverse blog.
Overall, leaving behind the last couple of months, where I became super busy, my year in blogging went good in 2015, and certainly a one notch up from last year. I wish I can write more blogs in the coming year.