I got the opportunity to get my hands on a new YU Yuphoria phone last week. Following are my observations and review first hand.
YU Yuphoria released in the May 2015 as a successor to the phone Yu Yureka which was released in Jan 2015 by Micromax. YU Yureka was the first phone released under the YU tag. At the price point of Rs 8,999, Yureka provided many features to be found in only high end phones. Yuphoria, released after a few months is kind of a down scaled version of the Yureka but have its own strengths to boast on.
Hardware

As a owner of Moto X (1st gen), the specs of Yuphoria baffled me initially. Yuphoria had similar specs as that of Moto X 1s gen but cost only Rs 6,999. That's 3.5 times less price than that of Moto X 1st gen with similar features. Lets see the specs at a glance.
Yuphoria is a 4G phone with 5 inch screen size, have a layer of Gorilla glass 3 and sports a pixel density of 294 ppi with its 720p resolution. It's powered with Snapdragon 410, Quad-core 1.2 GHz Cortex-A53 chipset which contains graphics capability of Adreno 306. Snapdragon is Qualcomm's first 64 bit SOC. In terms of storage it comes with an internal memory of 16 GB (of course less for actual use) but is expandable to 32 GB. The phone contains 2 gigs of RAM enough to never let you go out of memory when playing high end games (for a couple of years at least).


It's 8 mp primary camera have autofocus, flash and can shoot up to 1080p video. It can snap upto 3264 x 2448 pixels in image resolution. The front cam is 5 mp and seems impressive. The phone is supplied power through a 2230 mAh Li-Ion battery, which boasts of upto 160 hr of standby time on 3G, and 7 hrs of talktime.
Body
Now that the specs have been discussed lets discuss the body of the phone which many people are wary of. The shape of the Yuphoria is rectangle with metallic strips on the side. Previously I thought it was plastic but I was wrong. It does look elegant. The phone's back contains a camera with circular ring surrounding it, which houses the flash. Being used to the curves of Moto X, I felt the phone doesn't offer a good grip and sure enough the phone dropped once while picking it up. (For the overly cautious, it dropped on carpet from a height of not more than than 2 feet).


The power button on this phone is at an unusual location, between volume rockers. So while holding the phone with your right hand, your thumb can press volume up, volume down as well as power button at equal ease. This can demand some getting use to, since you may accidentally lock the device while raising or lowering the volume.

Software
The software for YU Yuphoria is something that most people are truly excited for. Micromax decided to pack the phone with a popular Android Custom ROM community, Cyanogenmod (CM hereon). CM is an open source group of android developers who maintain custom ROMs for various devices based on the Stock Android that Google releases each year. But for anyone to migrate from stock to Custom ROM, they usually have to root their device, void the warranty and then flash CM through some techniques that makes you feel like a hacker if nothing else.

But not with Yuphoria. With the presence of CM 12 that is based on Android 5 users can enjoy Lollipop (code name of Android 5) right out of the box. CM 12 (Lollipop) have many features including advanced notification bar, which includes compass inside it as a widget. CM 12 allows for a ton of customizability that could otherwise not be possible on the stock ROM. Apart from this Micromax claims that rooting the device won't void its warranty. Now that is something!
With CM 12, Yuphoria comes with a bundle of apps but nothing with excessive bloat.
Camera
I tested the stock camera of the phone by taking snaps of objects at the same time and angle along with Moto X. Comparing the cameras of the two phones isn't exactly fair but I wanted to see how does the picture differ on default settings and stock camera. The difference were much. I observed that the pics taken from Yuphoria lacked details and artifacts were clearly visible when zoomed enough. The colours also doesn't look natural and were more saturated. You can compare the pics taken from my Moto X and Yuphoria in these Imgur albums:
Yuphoria's Pics: http://imgur.com/a/VJKEf
Moto X's Pics: http://imgur.com/a/9Nu2Y
The interface of the camera is good. It have the ability to take snaps while taking videos and one can also toggle among available presets by swiping down on the camera UI. This is a handy way to toggle modes, since users doesn't have to fiddle in settings. Video recording also have the pause button, which is missing from say CM 12 for Moto X.
Video and other Software Issues:
I have made this a separate topic since I wanted to write some things which I have observed while playing videos on it. When this phone was unpacked I copied on it some HD videos to play along with a movie in .AVI format. VLC app wasn't installed on the phone but it sure was able to play the .MP4 HD clips smoothly. But when I tried to play the 700 MB .AVI file phone rebooted on its own. Next time while recreating the issue, it just showed an error "can't play this format". But it easily got rebooted in 4th attempt. The .AVI might be corrupted but that shouldn't crash complete OS.
I also faced some random pop ups informing about an app which suddenly force closes. Moving along I saw that even after I turned the "Auto Update Apps" off, it still started to update the apps on its own on Wi-Fi. I think most of this bug is due to the Cyanogenmod ROM and not due to hardware, which can be fixed in updates.
Benchmarks
Following are some benchmarks of the phone:
Quadrant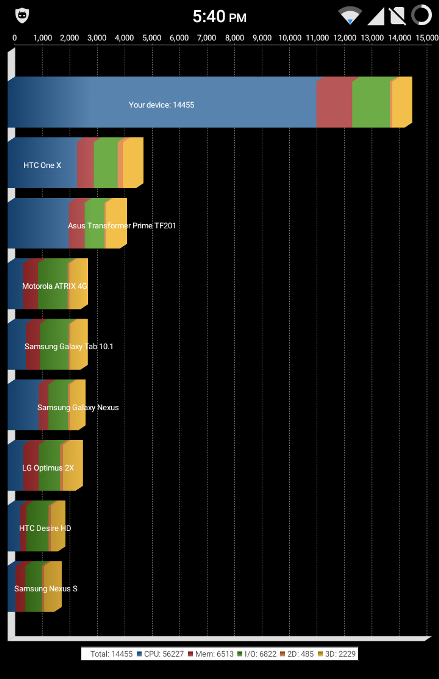 Antutu and Antutu HTML5 Test
Nenamark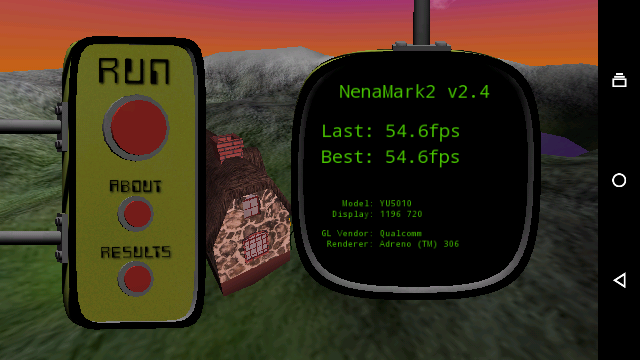 Final thoughts:
Yuphoria is a great phone. It have a good screen, good hardware and custom ROM support out of the box. At 6,999 you probably can't ask for more than what already this phone is packed with. Sure there are some bugs but it mostly deals with Software and I am sure with future updates and refinements this phone can become more stable. So if you are planning to buy your first Android Yuphoria is something you should definitely consider.
Bonus: Phone's Unboxing Video:
I created this unboxing video along with TechGlobule.com. Video also features first reboot of the device.

For more technical review you can read this review from TechGlobule.