While my choice of genre doesn't really allow me to digest modern popcorn blockbuster Bollywood movies, I often tend to enjoy them occasionally if served with a good story and execution. I will have to say that Bobby Jasoos was not one of them.
Bobby Jasoos seems to be a half baked, self pretentious attempt in directing by Samar Shaikh and endorsed by Diya Mirza as a Producer, whose skills could have been better utilized as an actress to save this movie a little.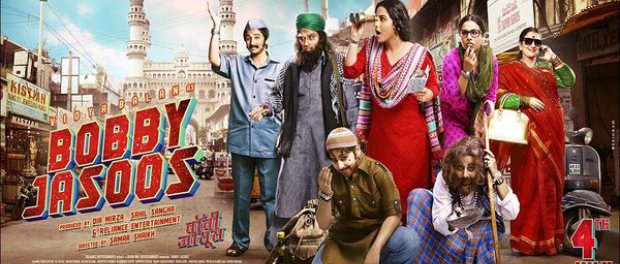 The story of Bobby Jasoos is about a 30 year old Muslim girl named Bobby, residing in the heart of Hyderabad city near the iconic Charminar. While she keeps herself involved in investigating cases in night and trying to get a proper detective job in daytime. She is having a rough time in securing clients as a detective, but luck takes a big turn as she receives an assignment that pushes her to her limits. Rest of the film is a riot as she tries to struggle her career as a detective and manage her family emotionally who doesn't seem to be in favor of what Bobby does.
While the film seems to have so much potential what makes it fail is the treatment. The film starts of in a humorous tone and actually seems like to begin with the right foot. But as it picks up pace we are introduced some of the people that seems like a cliche examples of typical characters from all of the Bollywood movies I detest watching. Slowly the viewer is faced with slapstick humor, family drama and been-there-done-that events that feels like Deja Vu in the course of a family drama movie.
Songs don't help either. Neither of the songs in the film leaves an impression on the viewers mind, rather give them a chance to take a break and catch up on sleep while they are at it. There is one particular song in the movie which I won't specify to stay away from spoilers, and which I personally think was totally uncalled for in the situation. Perhaps the pacing or editing could have been a lot better, so as to give the movie a coherent flow.
In this movie Vidya Balan in the role of Bobby gets to change in a lot of getup (around 12) but most of them doesn't help the story in much ways. It looks as if she was made to change just for the sake of humor. While the film can be considered short at just 121 minutes, it feels somewhat dragged occasionally, and fails to let viewers invest their emotions into any of the characters except of the lead character.
That being said, the film does have its moments but those are just a few. I would also say it was a daring attempt to try to execute a movie with only a female lead, who for the most part remains out of glamor, and where she is also shown to break free from many of the stereotypical role a women is portrayed in Indian movies. I would also have to admire Vidya Balan for her acting skills as she was very convincing in all of those getup she did onscreen. I would not blame the execution of the movie on her since the onus of the complete movie lied on her shoulders alone. And she did her role perfectly.
It would be fair to say that while the first half of Bobby Jasoos, raises viewers interest a little, second half helps it raise even further, but the final twist fails to live up to the expectation.
One more movie "Queen" was also released recently where the story was about a female lead who is shown to break free from various stereotypical roles, but it would be unfair to compare both of them, because while Queen was set up in vibrant and colorful foreign cities like Paris and Amsterdam and was more closer to today's generation, Bobby Jasoos relates more to India and typical Indian family drama, and was filmed totally in the streets of semi urban parts of Hyderabad which gave the movie a special flavor of India, more closer to most of the people of the country.
Combined with all other things I would rate the film a 6 out of 10. Extra 1 to give Bollywood a break from the male dominant masala movie and an attempt to create India's own Sherlock Holmes.